Popular since the late 19th-century, Villars is one of the ski world's classic resorts. The first lift went up here in 1936 – one of the earliest lifts anywhere built specifically for skiers.
Always a popular resort with the Swiss locals, Villars has grown to accommodate international visitors who are attracted by its blend of traditional Swiss mountain village feel and modern ski resort facilities.
Located on a natural balcony in the Alps, it offers picturesque skiing and multiple options for non-skiers. The resort's easy accessibility and reputation for sunshine on south facing slopes adds to the appeal, but also previously raised issues regarding snow cover. Fortunately, Villars receives a healthy dose each autumn before the sunshine starts and has also invested heavily in an environmentally-friendly (comparatively) snow making system to guarantee good conditions.
These days Villars markets itself especially as a family-oriented resort, offering a particularly generous arrangement for children who do not need to pay for lift passes until the age of nine. Much of the terrain does suit this market but with an area pass that encompasses more than 400km (250 miles) of runs in total, there's something here for everyone.
Villars is situated in the Alpes Vaudoises region of Switzerland, and affords views stretching from Mont Blanc past the Diablerets Glacier all the way down to the eastern end of Lake Geneva. The nearest low-lying town is the small wine-producing settlement of Aigle, but the resort is easily accessible from the cities of Lausanne and Geneva.
On the slopes
The resort is most suited to beginner and intermediate skiers, as the majority of the slopes are wide and gentle.
But Villars does also offer some challenging areas for the experienced skier, including the Chaux Ronde and Les Bouquetins black slopes, the latter descending from the highest point of the Grand Chamossaire 2120 chairlift down to Roc d'Orsay at the base gondola station. A challenging 5km-long (3 mile) trail to the village is the longest in the region with a 900m (3,000 foot) vertical drop, and has been used in the past for downhill world cup racing.
Those looking to explore the area can take advantage of its proximity to Les Diablerets, Gryon and the Diablerets Glacier. The Superpass ski pass allows skiers to further extend their choice to include the Gstaad ski area, which altogether grants access to 420km (260 miles) of pistes.
The Villars-Gryon-Diablerets ski area is generally open from mid-December until late April. The Glacier 3000 area is open from the beginning of December until May, and cross-country skiing is available here almost all year.
There is a wide selection of reputable ski schools, distinguishable by their different-coloured uniforms, including École de Ski Villars (tel: +41 24 495 4545; www.villarsski.ch).
It's also worth noting that facilities for disabled skiers are particularly good in Villars. The non-profit Handiconcept Association (www.handiconcept.ch) organises fund raising efforts and sources technology and expertise to offer handicapped people the best opportunities to practise snow sports.
Average snow depth in Villars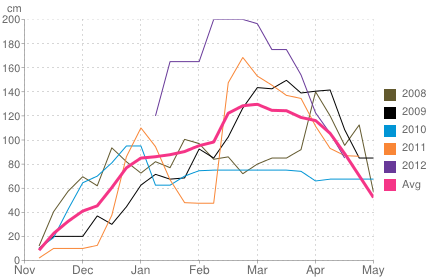 Historical snow depth in Villars
Do you have any Feedback about this page?
© 2023 Columbus Travel Media Ltd. All rights reserved. No part of this site may be reproduced without our written permission, click here for information on Columbus Content Solutions.