Megève is one of the great success stories of French skiing but it is often overlooked by the big tour operators, which some would argue contributes to its standing as one of the region's most stylish resorts.
As well as its almost century-old status as a high-class ski destination, the resort also has a world-renowned reputation for its dining and shopping, and guests here can also enjoy some of the best views in the Alps.
The resort was created in the early 1920s as a French response to the success of ski developments in other Alpine nations, particularly St Moritz in Switzerland. It was hugely successful in the following decades, attracting the 'great and the good' from the era. However, in the post-war period, the new breed of high-altitude, purpose-built resorts swept across the French Alps and Megève was no longer the sole high-end offering.
But Megève's success quietly continues to this day. The village maintains its wonderful ambience and charm – centred on its narrow cobbled streets – and it has grown to offer a wide range of accommodation, restaurants and shops. The surrounding ski area has merged with neighbouring villages to become a giant domain with hundreds of kilometres of pistes.
Megève is located in the Haute Savoie region of the French Alps, close to Western Europe's highest peak, Mont Blanc; within the Pays du Mont Blanc area.
On the slopes
Megève has an enormous ski area – albeit broken into three major and eight minor sectors – encompassing 445km (277 miles), more than 220 pistes and over 100 lifts. The classic resort is at a lower altitude than many other major French alternatives, with its highest point at 2,525m (8,284ft) on Mont-Joly, but snow cover is rarely a problem.
The largest single area links the village to the old spa town of St Gervais, just over the Mont d'Arbois summit. On the other side of Megève, the Rochebrune sector is uniquely accessed from the town itself, while the third sector, Jaillet, is shared with two neighbouring villages: Combloux and La Giettaz.
The lifts connecting these areas are included on the affordable Evasion Mont Blanc lift pass, which costs less than most ski areas of comparable or smaller size. Alternatively the larger Ski Pass Mont Blanc pass gives access to eight or so additional villages, such as Chamonix, Les Contamines, Verbier and Courmayeur.
Megève's terrain offers numerous green, blue and red trails winding through scenic woodland. Beginners have convenient nursery slopes near the village, while the more advanced are likely to find the greatest challenges on Mont d'Arbois. In addition, there are plenty of off-piste routes on Mont Joly and Mont Joux, and there's even the chance to go heli-skiing over the border in Italy.
Boarders and freestyle skiers have two terrain parks, a boardercross and a halfpipe to enjoy, while cross-country skiers can explore 43km (27 miles) of groomed tracks through forests to sunny plateaus.
Average snow depth in Megève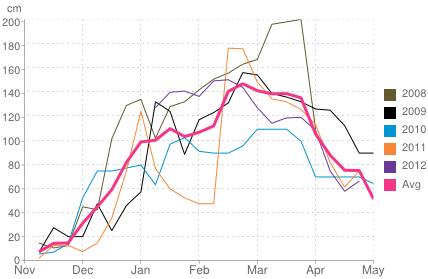 Historical snow depth in Megève
Do you have any Feedback about this page?
© 2022 Columbus Travel Media Ltd. All rights reserved. No part of this site may be reproduced without our written permission, click here for information on Columbus Content Solutions.