Courchevel is the French answer to Switzerland's St Moritz in terms of its appeal to the planet's richest clientele, particularly, in this case, the Russian market.
However the glittering ski centre, which lies at one extreme of the world's largest ski area, the vast Trois Vallées (Three Valleys), with its 600km (370 miles) of piste, is keen to let everyone else know that it has much more to offer than just the world's most expensive ski chalets - and France's biggest concentration of 5-star hotels outside Paris.
While the original high altitude resort out-prices many, bargains can still be found a little lower down the mountain, where the prices drop along with the altitude.
Courchevel Moriond 1650, Courchevel Village 1550, the more traditional Courchevel Le Praz 1330 (the numbers referring to their altitude in meters) and Courchevel Saint-Bon are more affordable but still excellent bases with blossoming après-ski scenes. All of the aforementioned areas are linked into the lift network, meaning even paupers can enjoy the same great ski area treasured by the bankers and oil barons.
Courchevel is located in the Savoie Alps of southeastern France, close to the Swiss and Italian borders. It is part of the large Trois Vallées ski area, within the Tarentaise Valley.
On the slopes
With 150km (93 miles) of pistes, the Courchevel Valley makes up a quarter of the Trois Vallées ski area, with its total of 600km (373 miles) of runs and nearly 200 lifts – but the local area on its own has much more than most resorts can offer.
Beginners need not pay out for a lift ticket from day one, as there are a dozen lifts operating free of charge for first timers on nursery slopes near to the resort's various bases. Beginners can then progress onto ideal terrain (wide blues and greens) further up the ski area.
Average ability skiers will find more lift-linked skiing accessible straight from their accommodation in Courchevel and the Trois Vallées than anywhere else on the planet, with nearly 250 blues and reds to explore in the full region.
Experts also have a huge choice, including the famous 'Ugly Sisters' couloirs and steep mogul fields such as Jean Blanc. Heli-skiing over into Italy is popular with the well-heeled crowd (it's illegal in France, though helicopters do set off from here), while off-piste tours and many other advanced-level ski activities can be organised through the local ski schools or the mountain guides' office.
The ski season in Courchevel runs from early December to the end of April.
Average snow depth in Courchevel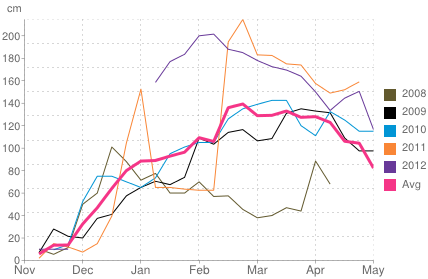 Historical snow depth in Courchevel
Do you have any Feedback about this page?
© 2023 Columbus Travel Media Ltd. All rights reserved. No part of this site may be reproduced without our written permission, click here for information on Columbus Content Solutions.